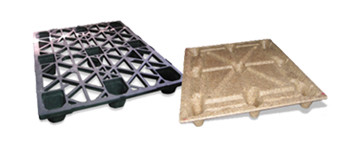 Specialty Pallets for Shipping
Specialty pallets are designed to meet specific needs or conditions such as international shipments, weight capabilities or specific design. These products include: standard wood, heat treated, molded pallets, and plastic pallets.
We offer custom sized plastic pallets with no tooling or minimum quantities. Several design options are available and pallets with non-slip deck boards, smooth deck boards, 2 and 4 way entry, plus accessories such as end caps that protect the stringers, and casters.

Contact Us for a Free Specialty Pallet Price Quote